One River Point
Business Bay's most eclectic lifestyle
Business Bay's most eclectic lifestyle
One River Point is an architectural masterpiece that stands tall and proud, overlooking the mesmerizing Dubai Canal and the iconic Burj Khalifa. Its design seamlessly blends elegance, innovation, and a connection to the urban environment.
The residential project presents an array of world-class amenities that cater to the wellness-oriented and sophisticated lifestyle of its residents. The amenities are celebrated as an exclusive zone combining various spaces through a striking formal expression that adds a touch of architectural distinction and visual appeal.
Business Bay is a thriving community located in the heart of Dubai. It is a rapidly growing business and residential district and one of the largest commercial hubs in the region. The community is strategically situated near the iconic Burj Khalifa and Dubai Mall, and it is surrounded by several prestigious hotels, world-class restaurants, and upscale retail outlets. Business Bay is also well connected to other parts of the city, with excellent road and public transportation networks, including the Dubai Metro. Business Bay is a bustling and vibrant community that offers a modern lifestyle, unparalleled business opportunities, and an impressive skyline view.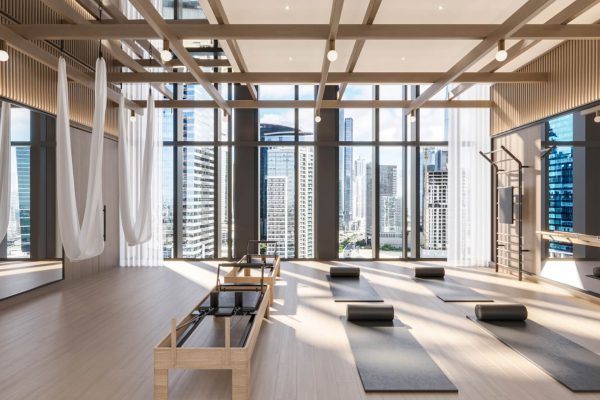 The yoga studio is a sanctuary for wellness, thoughtfully designed to enhance the connection between body, mind, and the surrounding natural beauty, and features a virtual trainer on the projector screen.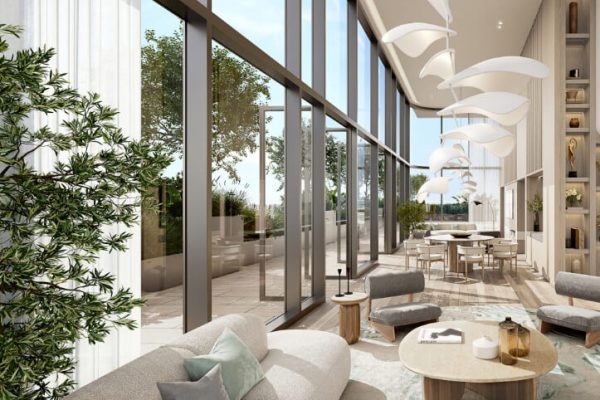 The clubhouse is a central gathering point, featuring a well-equipped kitchenette, and hotel-style furnishings. It also offers a small co-working business center with a coffee station and pantry with views of the garden and swimming pool.
The Immersive Room is an innovative space designed to transport residents to a world of imagination and wonder, with full projector screens that stretch from wall to wall, enveloping visitors in a mesmerizing visual journey.
The tower's exterior is a stunning display of a framed facade design, characterized by a series of intricately crafted frames and large glass panels creating a captivating visual effect, that reflects the vibrant energy of the city and the surrounding landscapes.
The interiors offer a distinctive living experience, characterized by a blend of rich, contrasting materials and modern detailing that exudes urban sophistication. The neutral color palette creates a tranquil ambiance, while dark accents add a touch of modernity.