Kensington Waters
Discover a new wave of living
Kensington Waters
Discover a new wave of living
Discover a new wave of living
In a fast-paced world where each new day brings about new adventures, Kensington Waters serves as the perfect backdrop to lead a contented, modern, and fulfilling life.
The development is inspired by the natural element of water, echoing wellness, health, and happiness, and offering a haven of beauty in the heart of a thriving city. The building's lighting accents the vertical facade features and provide a wash of warm light to the building's crown, standing out with elegance and poise. Providing residents with a range of amenities providing world-class quality and experiences, the project is stemmed around the notion of wellness and sustainability. The project encompasses 277 beautifully designed units, including studios, one, two and three bedroom apartments, as well as 4 retail stores.
Committed to making eco-friendly decisions, Kensington Waters aims to meet Dubai Green Building requirements through using low maintenance and long-lifespan sustainable finishes, low-flow sanitaryware, LED lighting.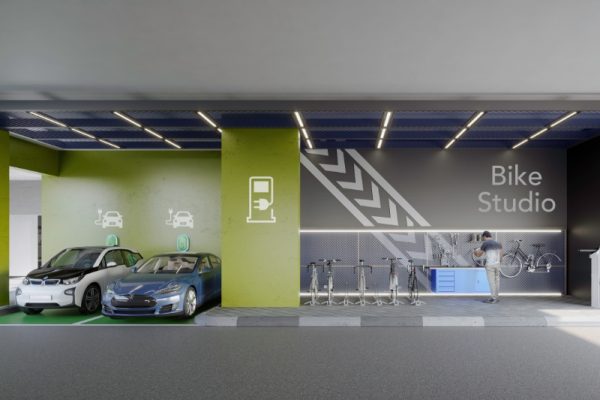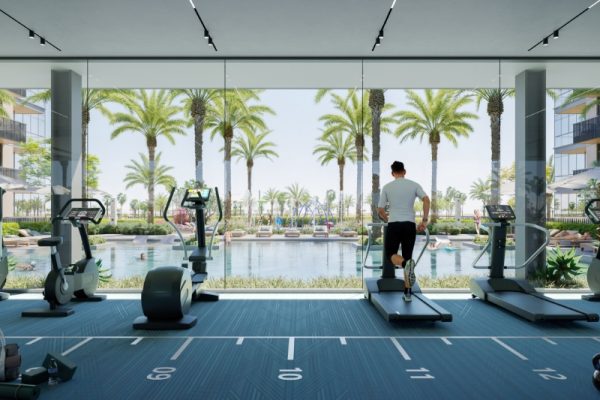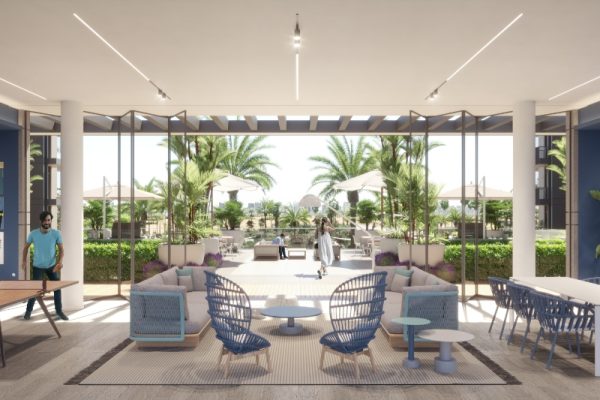 Elegant lobbies

Hotel-like drop-off and pick-up area

Semi-Olympic lap and leisure pool

Kids' play area and splash pad

Panoramic fitness center

Changing room with steam and sauna

Electrical vehicle charging stations

Bike studio and workshop

Pavilion clubhouse and terrace

Retail stores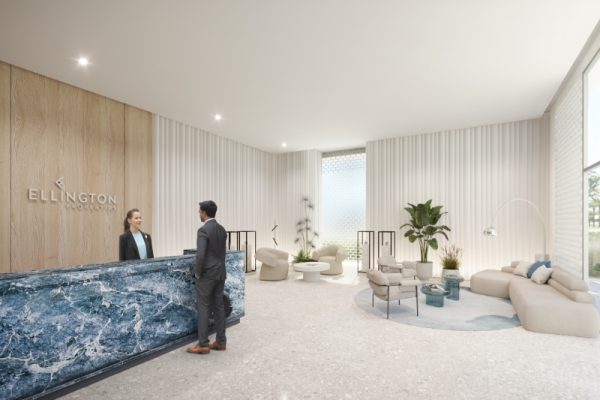 Kensington Waters is home to two elegant and sophisticated lobbies designed with high ceilings and a distinct lounge style, complete with a reception and ample work and lounging areas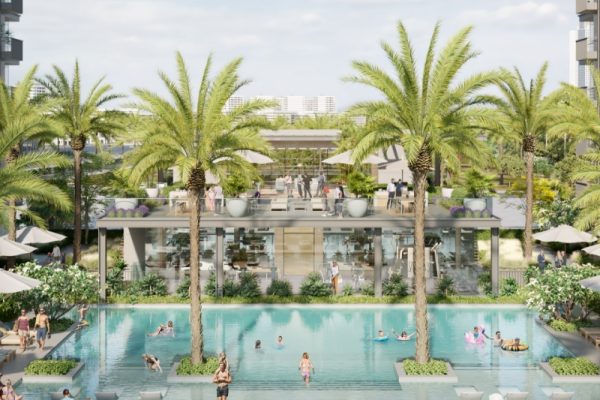 DISCOVER A PAVILION AT THE CENTRE OF LIVING
A real hub of activity and life, the pavilion is a space designed to provide entertainment, fitness, and leisure for residents of all ages.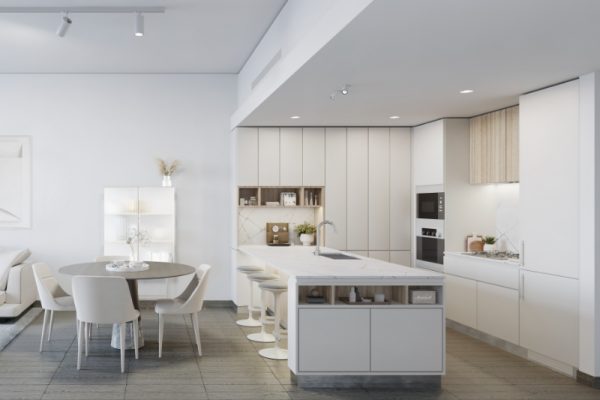 A SPACE TO CREATE AND EXPERIMENT
Fully outfitted for the most convenient experience, the apartments are home to kitchen areas with a custom design that is modern, highly functional, and aesthetically appealing.
Kensington Waters leaves an unforgettable impression, greeting its residents and guests with a hotel-like drop off area, offering a warm welcome and setting the tone for experiences yet to come. Kensington Waters is a high-rise residential development, including 277 units distributed over 12 residential floor, in two towers.
Within the stunning towers of Kensington Waters lays the Pavilion, a lively hub that incorporates a range of amenities, providing residents with all the necessary features to enjoy a sustainable, wellness driven lifestyle. The Pavilion includes a semi-Olympic lap pool, leisure pool, pavilion clubhouse and terrace, panoramic fitness centre, indoor and outdoor kids play area, splash pad and wet deck, bike studio and electrical vehicle charging station.
In a world where water equals life, Kensington Waters reflects just that, with every detail and measure taken to provide a holistic community that thrives on health and wellness. With textures, finishes and colors inspired by the water, the development provides a palette filled with warm greys and refreshing whites, adding key elements of liquid blue throughout. Additionally, we continue to leave a more sustainable footprint using high-quality durable materials and ethically sourced materials and finishes. The interiors are designed with extreme attention to detail, with large windows that allow for plenty of natural light, high ceilings, a fresh color palette and tailored flooring.