Ellington Views II
A Beach and Golf Course Serenity in Ras Al Khaimah
A Beach and Golf Course Serenity in Ras Al Khaimah
With its panoramic vistas, Ellington Views II offers an island paradise designed to connect its residents to natural beauty and urban vibrancy. Surrounded by ocean charm and imbued with the lifestyle of a boutique hotel, Ellington Views invites you to a life led by design.

The residential development offers a range of thoughtfully designed studios, and 1, 2, and 3-bedroom apartments, providing residents with spacious and modern living spaces. The focus is on providing esteemed residents with a high-quality lifestyle, with amenities catering to their needs and desires.
Ras Al Khaimah offers an adventurous lifestyle like no other. The emirate boasts a diverse landscape that caters to thrill-seekers and nature enthusiasts alike. From the Mountains, perfect for hiking and mountain biking, to the serene beaches along the Arabian Gulf, Ras Al Khaimah has it all. For those feeling lucky, the emirate even features a game-changing experience that adds a touch of excitement to the vibrant nightlife. Whether you're exploring the desert dunes, or diving into the crystal-clear waters, Ras Al Khaimah promises an unforgettable blend of adventure and relaxation in a captivating Arabian setting.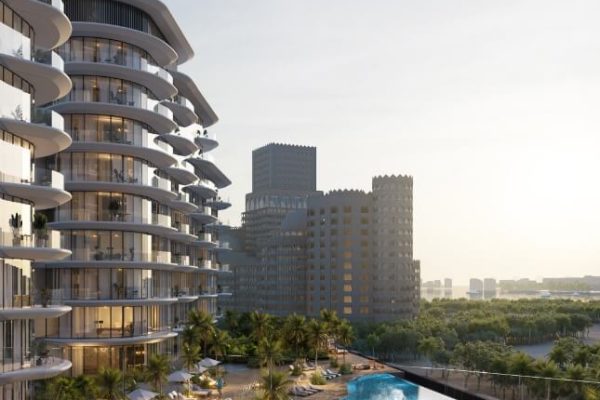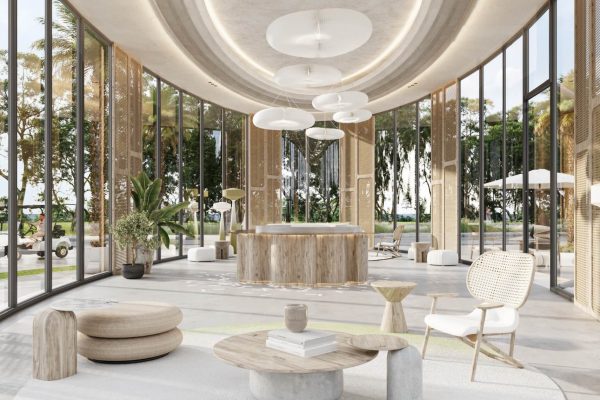 The Beach Pavilion provides a serene and comfortable lounge where residents can relax and soak in the tranquil atmosphere. Whether you're heading to the pristine golf courses or the sun-kissed beach, this pavilion offers a refreshment bar thoughtfully stocked with an array of beverages.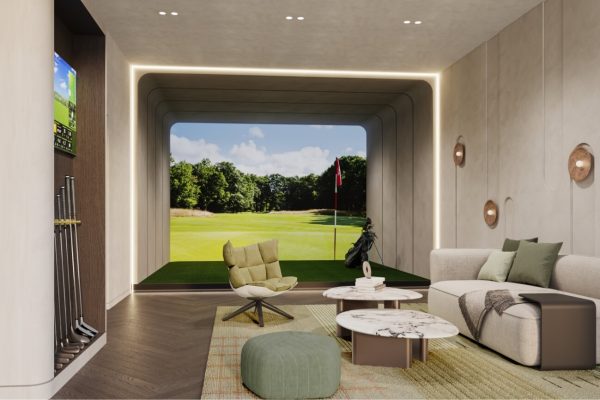 The indoor golf simulator caters to the needs and desires of golf enthusiasts among residents. Whether you're looking to improve your swing, enjoy a round of golf with friends, or simply relax in a golf-themed environment, this facility offers a convenient way to indulge your passion for the sport.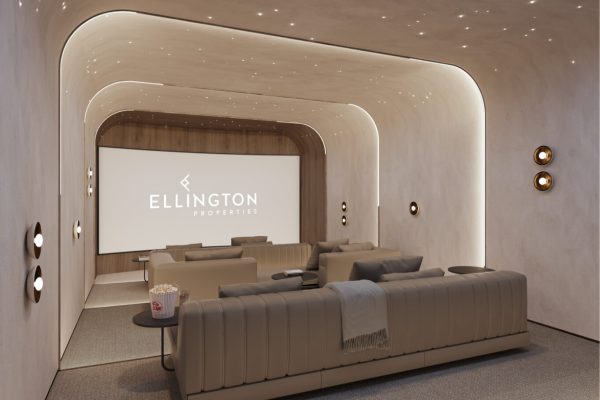 The cinema room is a haven for movie enthusiasts, offering an immersive cinematic experience within the comfort of the residence. This amenity is designed with meticulous attention to detail, featuring state-of-the-art audio-visual technology, plush seating, and a visually stunning ambiance.
An energetic landscape was created balancing nature and entertainment. Surrounding the pool deck and the beachfront area, residents have access to green walkways, children's soft play areas, tranquil seating areas, mini golf, and an integrated outdoor gym and yoga area.
The softness of the coastal-inspired facade is extended to the building's exterior design — The creative approach to the interiors allows for transitions between open communal spaces and more secluded rooms. It's a seamless experience that encourages residents to make use of the wealth of amenities, whether entertaining, socialising, or savouring precious moments of peace and quiet.