Berkeley Place
The Gateway to Exceptional Living
Berkeley Place
The Gateway to Exceptional Living
The Gateway to Exceptional Living
Berkeley Place is an architectural triumph that holds within its soaring splendor an exceptional living experience. As you approach its hotel-like drop-off area the bustle of the city fades away and an ethos of hospitality and exclusivity invites you in.
The development is an odyssey of open spaces and thoughtfully placed amenities that offer comfort and beauty in equal measure. A modernist influence sweeps across the residence's 127 stunning apartments which includes studios, one- and two-bedroom apartments – with design features that maximize the best possible use of space and light.
Setting new standards in high-rise living experience, Berkeley Place combines modern architecture with resort-style amenities to create an address like no other in Dubai. The rooftop is the social hub of the residence, with an infinity pool, rooftop terrace with lounge and BBQ areas and various amenities that deliver an unmatched experience every day.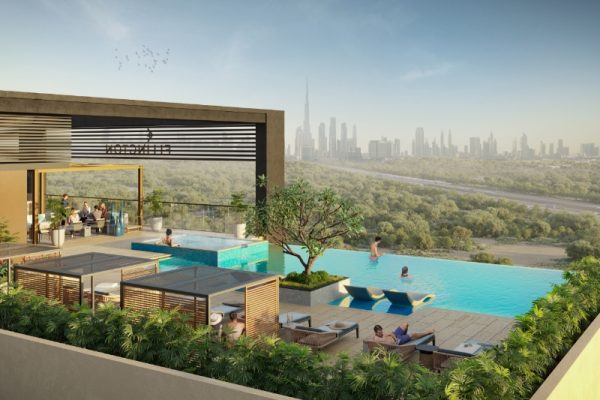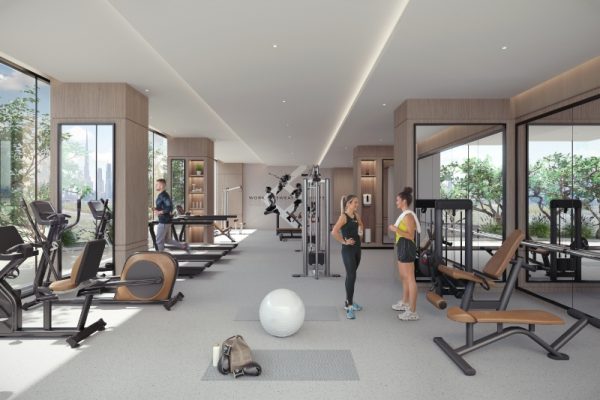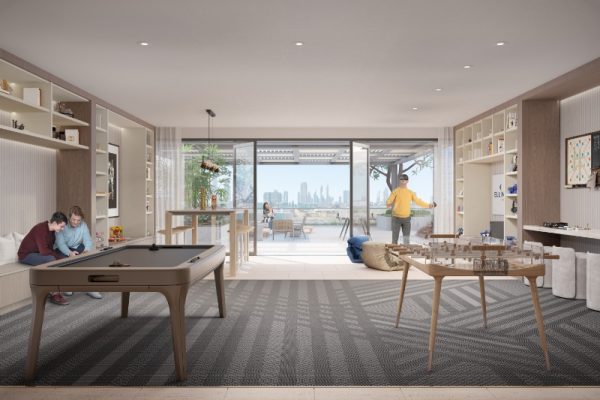 Hotel-like drop-off and pick-up area

Lobby with lounge, work and reading areas

Electrical vehicle charging stations

Bicycle parking with maintenance stand

Garden with seating areas

Outdoor urban basketball area

Arcade room with outdoor space

Indoor and outdoor fitness studio

Outdoor yoga deck

Changing room with steam and sauna

Rooftop infinity pool and deck with pool spa

Rooftop terrace with dining, lounge and BBQ area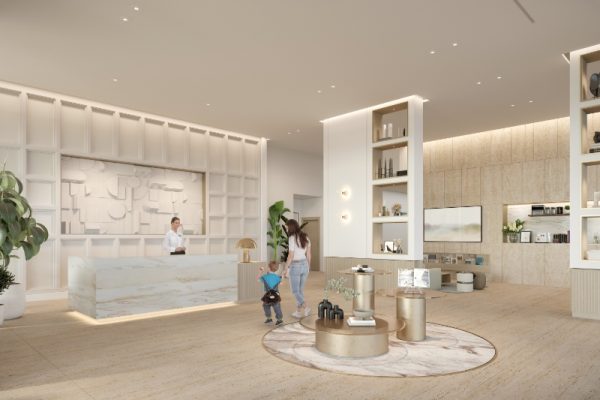 A statement of modern magnificence, the lobby in Berkeley Place is designed to inspire. Bathed in natural light and adorned with artistic details, the space has ample seating and lounge areas to prompt visitors to explore or relax.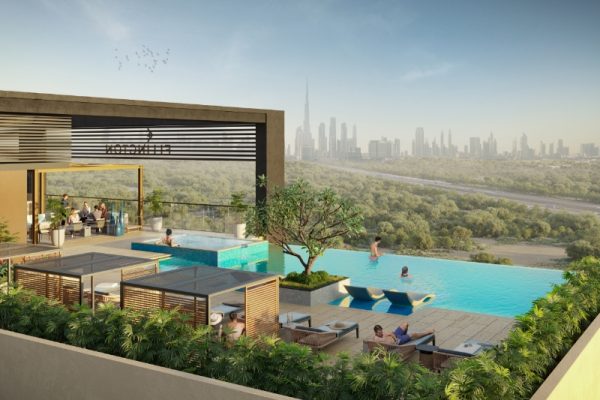 The rooftop at Berkeley Place raises the bar in wellness-inspired entertainment. An infinity pool with breathtaking views of Dubai is complemented by a pool spa and sun loungers' area. A spacious lounge with kitchen and BBQ area is designed to bring friends and family together.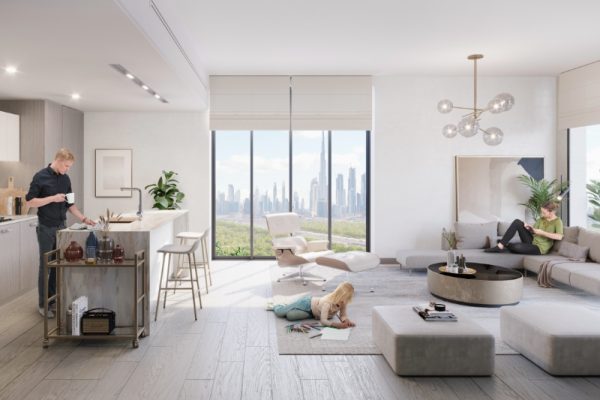 A verdant space that weaves wellness into the residence's design aesthetic. The podium level surrounds the tower in herbaceous beauty with ample space for socializing or simply enjoying a leisurely walk.
Set amidst a beautiful desert landscape, Berkeley Place stands out for its distinct geometries as it soars against Dubai's dazzling city views. The elegant 12-storey building features an eye-catching façade that's punctuated by balconies with their Ellington signature tall metal and glass balustrades.
An air of tranquility and calm is weaved around the residence with a thoughtfully designed podium that features inviting walkways and plenty of dedicated areas for relaxation and healthy activities. The rooftop captures the exclusivity of the residence with a slew of amenities including an infinity pool, and a lavish lounge with viewing deck.
At the heart of Berkeley Place's architecture is a philosophy that challenges our increasingly atomized worlds. The interiors, from the warm and inviting color palette to the layout of amenities, are designed to encourage social interaction. The lobby is where the tone is set for the residence's interiors, striking a balance between natural elements and design to create a space that's ideal for work or relaxation.
Sustainability is integrated into the design, construction, and operations of the building with a clear focus on limiting our carbon footprint by adopting energy-saving technologies, ethically sourced materials, and innovative waste minimizing products.