Wilton Terraces
A distinction standard of living
A distinction of standard living
A well-thought-out, all-inclusive residential community built on delivering the finest in every aspect of life, Wilton Terraces I is designed to give its residents a holistic experience, creating a benchmark on the way we perceive quality living. Every house is designed to create the perfect setting for a modern lifestyle. Ellington Properties believes that homes should aspire us to go out into the world, do great things and come back for some well-earned repose. Discover your perfect apartment for sale in the most exquisite communities in Dubai.
The building's contemporary design is simple, harmonious & elegant, and interacts seamlessly with its natural surroundings, building impressions with its neigbouring developments.
Conceptualized to give its distinguished residents a real sense of community, Wilton Terraces I create an atmosphere where young families can connect, share and grow. This is where you can make time for what matters most in life. Nestled within the community of Mohammed Bin Rashid City, the two towers are surrounded by plenty of outdoor spaces including play areas, where children can engage in interesting activities, as well as beautifully landscaped gardens and parks that serve as ideal settings for family picnics and intimate gatherings.
Influenced by the rich textures and patterns prominent from the Silk Road period, ancient trading routes of spices, carpets and rich textural goods across Asia and the Middle East, with a touch of green tones and vegetation, Wilton Terraces I is a brilliant reimagination that blends classical elements with contemporary design, creating the perfect setting for minimalistic modern living. Within the two towers, the lobby areas and public spaces are a nuanced interpretation of the period, with every detail connected to the storied past with utmost subtlety. At the intersection of tradition and modernity, the understated yet elegant at Wilton Terraces I, what makes it truly unique, with opportunities to personalize.
Wilton Terraces I apartments are now for sale in Dubai.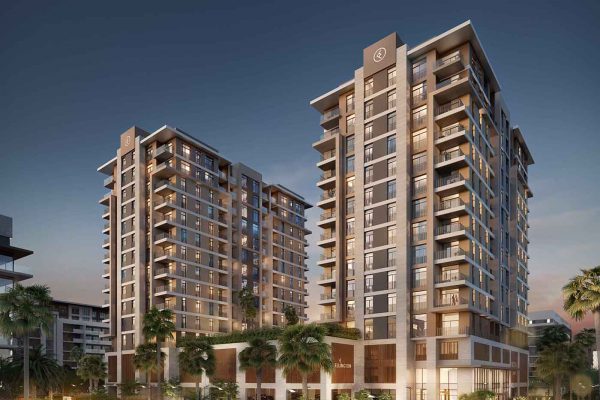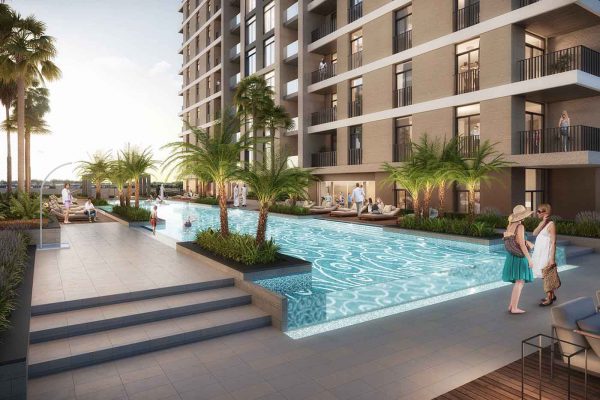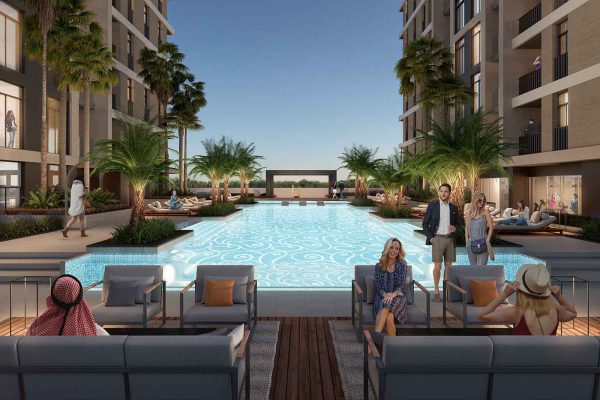 Wilton Terraces I is located in the heart of the city, situated very close to Dubai's major landmarks including Meydan One, Meydan Mall, Mohammad Bin Rashid City and Downtown Dubai.
Wilton Terraces is built within Sobha Hartland's residential cluster, spanning over eight million square feet of freehold lavish villas, quad homes and apartments in Mohamed Bin Rashid Al Maktoum City. Surrounded by 2.4 million square feet of greenery and set along the Dubai Water Canal, Sobha Hartland boasts natural panoramic views, world-class amenities and the finest destinations just minutes away. Experience bespoke living in the center of all the excitement.
14 levels

Gym

Swimming pool

Kids swimming pool

Children's play area

Retails & entertainment venues

Community living

Barbeque area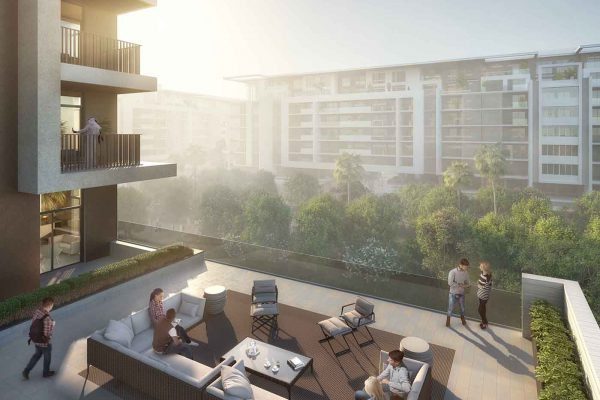 WHERE SOPHISTICATION IS A WAY OF LIFE
Conceptualized to be fully integrated into the natural landscape within the community, making the beauty of the splendid surrounding scenery, undoubtedly its own.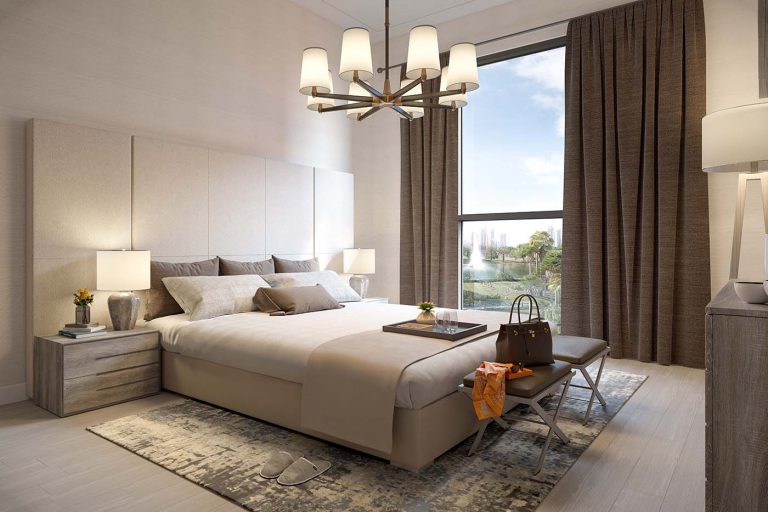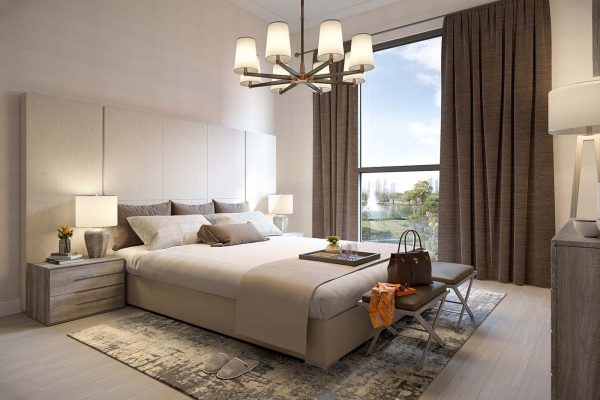 Ellington Properties is known for its uncompromising commitment towards crafting living spaces that not only shape but redefine Dubai's real estate landscape.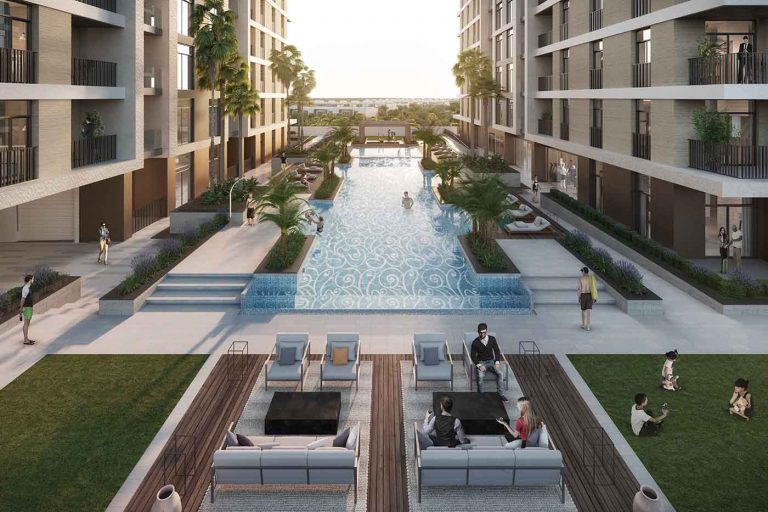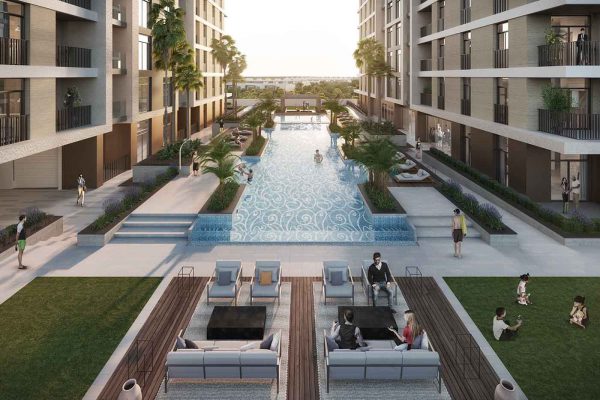 Striking the perfect balance between the indoors and outdoors, each home overlooks the lush green gardens interspersed with public squares and elegant water features within the community.
Wilton Terraces are two 12-storey towers and are comprised of 283 bespoke one and two bedroom apartments. The development is designed by the award-winning architectural firm Perkins+Will. Built with a focus on community living, the towers of Wilton Terraces I & II are interconnected by a single podium at the base, creating a magnificent exterior that is unmistakably unique.
Wilton Terraces I offer an exciting lifestyle, hospitality, and residential apartments with unprecedented transport links to the city and wider region. It allows direct access by metro and bus lines to Dubai International Airport, Downtown Dubai, the upcoming Sobha Hartland development as well as other major Dubai destinations.
Crafted to exceed the most demanding expectations, Wilton Terraces I is an embodiment of uncompromising excellence.
The projects offers 1 bedroom apartment for sale in MBR city, 2 bedroom and studio apartments with flexible payment plans.
Our design styles directive is to create an efficient space plan that integrates the bedroom units with the living areas and the semi closed kitchens. The units have been conceptualized with spatial generosity and transparency to allow a seamless connection between indoor and outdoor spaces.
Each apartment is completely thought through and fitted with separate laundry cabinets, built-in wardrobes and bathroom storage spaces. The storage units come with flexible shelves to offer maximum usage capacity. The kitchen is lined with custom cabinetry and polished countertops, furnished with fully integrated state-of-the-art refrigerator and our signature sinks & fixtures.
Intimate, individualised and exclusive, residences at Wilton Terraces I are more than just homes. They are an introduction to a unique living experience.